Extended Arms
Extended Arms
Women's day Celebration
Participants, mainly of, teens, and house wife took part in this. Most of the Parents were there to encourage their children on that day. No want of enthusiasm, joy with more excitement and many innovative and creative ideas. After every competition there were judging session, that was done wonderfully by our Judges. Based on the score card, the results and the winners were announced.
DCF – INDEPENDENCE DAY CELEBRATION
Independence Celebration is aimed to kindle the strength of local youths and to raise awareness by pledging to work for disability cause. And also this ignites the passion and patriotism for India. This celebration is earmarked by hosting carrom competition for the youths.
DCF – RELIEF / REHAB / RESTORE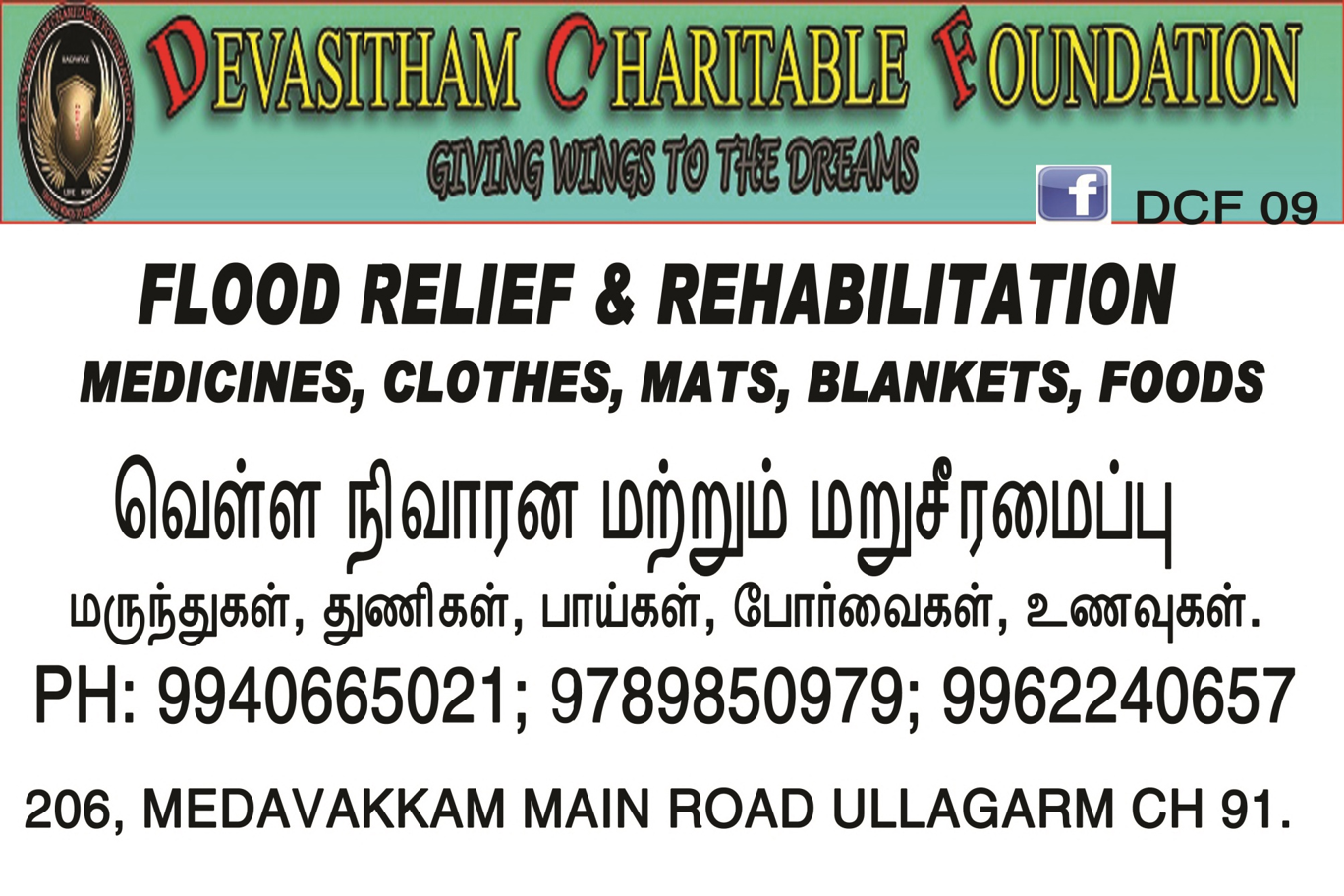 THERE CAN BE NO BETTER TIME TO TESTIFY THAT BROTHERHOOD AND HUMANITY LIVE
DCF plunged into this hour of crisis by
First working with army people in boats to rescue people in velacherry – Collaboration
Give whatever you have – a Simple principle
Collective effort of willful DONORs, purposeful NGOs, sacrificial VOLUNTEERS & selfless WELLWISHERS.
I ALONE CANNOT CHANGE THE WORLD BUT I CAN CAST A STONE AMONG THE WATERS THAT CAN CREATE MANY RIPPLES - MOTHER THERESA Areas we reached out:
KOLATHUMEDU SLUM
LUZCAR SLUM
ANAKAPUTHUR
LITTLE DROPS – Old age home
REHEBOTH CENTRE – Mentally retarded women home
PAZHATHANDALAM VILLAGE
VELLAIKAL
KOTTURPURAM SLUM
AMBEDKAR NAGAR
VEMBANUR VILLAGE
KOTTAI KADU VILLAGE
MAMBAKKAM VILLAGE
PALAVANTHANGAL RLY SIDE
KARUMBAKKAMM village
VIDALL village
PERIYAVEMBANUR village
NELLORE village
KADAMBATTUR village
Next step towards Flood – Relief & Rehabilitation Process:
Medical Camps – Remote villages & Slums
Counselling on wheels – Touching students lives
Restoring habitats – Demolishes huts & houses